Drive Safe with the Best Dash Cam for Truckers in 2023 - Your Ultimate Companion on the Road!

The best dashcam is one that complies with all the mandatory state regulations and fulfills the requirements of the fleet. Some main features are absolutely necessary for a dashcam and cannot be ignored.
The main features include a dual camera, high resolution, night mode, parking mode, wifi connectivity, and field of view. These are some of the essential and fundamental features. However, if the fleet has more specific needs then other features can be incorporated.
Pricing is another important factor that affects the decision of buying a dashcam. The most expensive dashcams are not necessarily the best for every fleet. The truckers or fleet owners need to ask this question. Does this dashcam contain all the features my truck requires? If the answer is positive then a compromise can be done on price.
Still, if the high price is a problem then do not worry. There is a myriad of dashcam choices in the market with unique features and medium to low prices. But finding an authentic and reliable dashcam can be challenging.
To make things easier for all truckers, we have curated this complete guide on what features you need to look for in the best dash cam for truckers and your fleet. Additionally, we also included a list of popular dashcams, their specifications, and prices (from high to low).
What to Look For In a Dash Cam?
All the features below are essential and need to be in a quality dashcam. Drivers may add or modify different features according to their specific needs. Look for these features when shopping for a dashcam for your truck.
Built-In Recorder
Most dash cams have a built-in audio recorder plus a speaker. The main purpose of the speaker is to announce verbal alerts in case of unsafe driving behavior such as high speed or using mobile phones.
The front viewing camera will detect the driver's non-ideal behavior and trigger the speaker to give alerts. It also records all types of audio data in the event of an accident.
Dual Camera
Dashcams always have a front camera, but sometimes there is an extra camera to video record the rearview. It is best to look for a dual camera with a front, back, and driver's view. It provides additional safety. You can request this feature to be added if it is not already there.
Resolution Power
For good video quality, it is best that the dashcam records videos in high definition preferably 1080p. Cameras with slightly lower resolution are also available in the market. But we don't recommend a compromise on video quality.
When the video is clear, you will easily be able to observe vehicles that are close to you and avoid collisions or abrupt breaks. The video will also serve as the sole evidence in case of an accident to figure out who was the culprit.
Night Mode
Infrared LED in a dashcam is the best feature for driving at night time. It works perfectly fine in low-light and dim-lit trucks. This is one of the most important features in a standard dash cam, especially for truck drivers who make long journeys at night.
Field of View
A wide field of view will provide a clearer and larger view of the road and inside the vehicle. A semi-angled lens is suitable for a wide field of view. A clear view will make it easier to read car plate numbers in proximity.
Collision Detector
The dashcam should have very sensitive detectors to identify all the harsh incidents like high speeding, collision, and abrupt braking. Samsara and KeepTruckin dash cam are popular in this regard. Because they also upload the accident report to the cloud automatically.
Wifi Connectivity
It is important to have wifi in a dash cam which will allow you to share important footage anywhere in a short time. For local storage, there is a memory card in the dashcam. But if the storage runs out, then wifi will let you save videos on the cloud.
Best dashcams for truckers in 2023.
Samsara Dashcam
Technical Specs
| Company | Samsara |
| --- | --- |
| Color | Black |
| Power | By Samsara gateway without additional power source |
| Size (mm) | 108 (length), 41 (width), 61 (height)Wire: 4m |
| Frame Rate | 30 fps |
| Type of Mount | Adhesive tape |
| Built-In speaker | Yes |
| Video Resolution | 1080p |
| Operating Temperature Range | -20 to 65℃ |
| Battery | 1300mAh (for parking mode) |
| Software | High definition Video Playback |
| Field of View | Semi Wide Angle (121°) |
Features and Price
Samsara is one of the leading names when it comes to dashcams, ELDs, and other fleet management tools. Despite being relatively new to the market, Samsara competes with McNally and other big brands that have been in business much longer. This is all because of the high-quality technology that Samsara offers.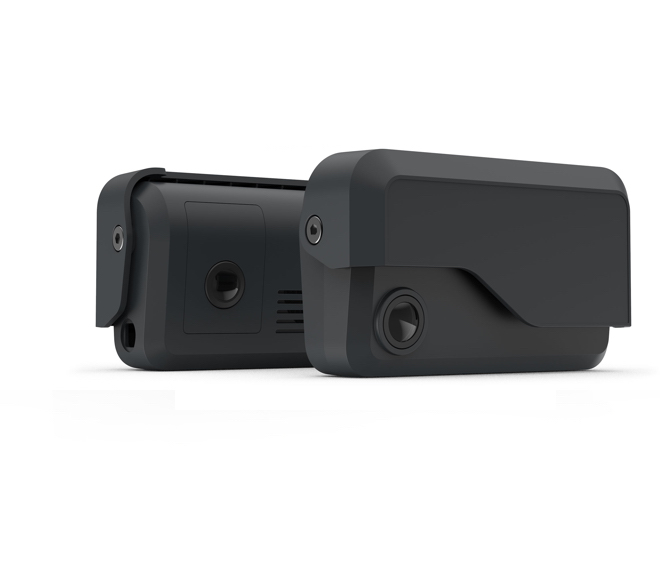 The features of the Samsara CM32 dual-facing AI dashcam include high definition camera, configurable audio coaching, internet connectivity, night mode, automatic video upload, a wide range of operating temperatures, reports for safety incidents, automatic alerts in case of no seat belts and speeding.
Samsara dashcams provide all the features that are useful and practical. The price of Samsara dash cams varies depending on the fleet's needs and size. Normally, a customer has to request a quote from the company to know about the exact price. However, as per our knowledge, Samsara dashcam prices started from $624.
Monthly subscription starts from $69 with 1, 3, and 5 years license/warranty options. The price might seem high to some but the high quality, customer service, and the number of features offered by Samsara, it is completely justified.
What's In the Box?
Mounting material
Cable
AI dual dash cam device
Manual
Warranty Card
KeepTruckin (Now Motive) Smart AI Dual Face Dashcam
Technical Specs
| Company | Motive |
| --- | --- |
| Color | Black |
| Battery | Through Vehicle Gateway |
| Storage | 68 to 104 hours |
| Real-Time Alerts | Yes |
| Size | 3.5 (length), 3.35 (width), 1.5 (height) |
| Control with App | Yes |
| Type of Mount | Adhesive mount |
| Automate Coaching | Yes |
| Video Resolution | 1080p |
| Type of Display | LCD |
Features and Price
This Smart Dashcam is a road-facing camera with driver's view from Motive (formerly Keep Truckin), and it provides a resolution of 1920 x 1080p.
Motive dashcam (formerly Keep Truckin) comes with a dual-facing dash camera and a road camera to provide safety from every side. Both camera views have specific functions. The road camera is there to capture what is on the road. While the dual-face cam records the rear as well as the driver in the vehicle.
The Smart dashcam shoots at a rate of 15 frames per second and has a field view with an angle of vision of 150°. The driver-facing camera it features has a resolution of 1280x720p.
KeepTruckin's (Now Motive) fleet management system offers a monthly subscription for $30 to $40. The upfront price of the dashcam starts from $300 to $400. With all the super-quality features and tech specs, this price is quite reasonable.
What's In the Box?
Dual AI Dashcam
Mounting Material
Cables
Manual
Rexing V1 Dash Cam
Technical Specs
| Company | REXING |
| --- | --- |
| Color | Black |
| Batteries Available | No |
| Size | 3.5 (length), 3.35 (width), 1.5 (height) |
| Control with App | Yes |
| Type of Mount | Adhesive mount |
| Standard Supported | MOV |
| Video Resolution | 1080p |
| Screen Size | 2.5 inches |
| Type of Display | LCD |
Features and Price
One of the most highly rated dash cams combines several valuable features such as HD video quality, discreet design, LCD, wifi connection, app control, and many more. The price is relatively low considering all of its high-quality functional features. You can get Rexing V1 Dash Cam from $94 to $99.
This dash cam provides a low-profile and discreet design that will not be visible to anyone while driving or when the vehicle is parked. Rexing V1 dash cam is the best dash cam under $100, supporting SD card (high-endurance) memory of up to 256 GB memory size.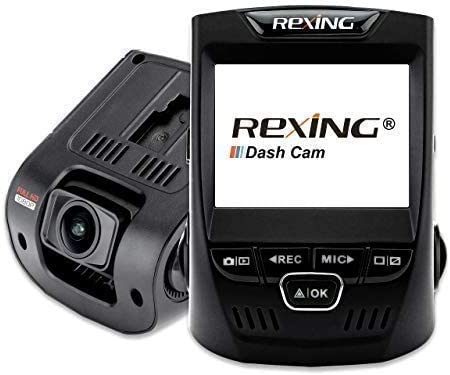 The video is recorded in high resolution, even if the car moves at high speed. Whereas, a Wifi connection is also available in it, so you can upload any video to the cloud instead of saving it on local memory. The video can also be sent anywhere. With a wide-angle lens (7-layer glass). The camera is optimized to work in any kind of light setting.
If the device's local memory is complete, there is a chance that the previous video will be overwritten. But with the special G-sensor of Rexing R1, important videos are locked and prevented from getting deleted. If the G-sensor detects a harsh event like a collision it will automatically close this video interval.
Parking mode will make sure that while the car is parked, a 20 to 30-second video is recorded in case of collision or any other harsh vibration. Supercapacitors can withstand extremely hot and cold temperatures without getting affected.
What is in the box?
User Manual
Main Dash Cam device
12 feet power cable (for in-car adjustments)
USB Cable
Adhesive mounting material
Chortau Dual Dash Cam
Technical Specs
| Company | CHORTAU |
| --- | --- |
| Color | Black |
| Batteries Available | No |
| Video Resolution | 1080p |
| Type of Display | LCD |
| Standard Support | 32 GB card Maximum, |
| Screen Size | 3 inches |
| Camera Part Position | Front and Rear |
| Size of Device | 3.15 (length), 1.97 (width), 1.18 (height) |
| Mount Type | Suction Cup |
Features and Price
This dashcam will only cost you $69. It comes with a 32 GB memory SD card and 3 inches widescreen view. Mounting material is also included in the box. All these features at this price are quite a bargain.
It is very easy to use and install. You can download its user guide for free or take advantage of the user manual with the dashcam. Just put in the SD card and turn on the device, and it will start recording.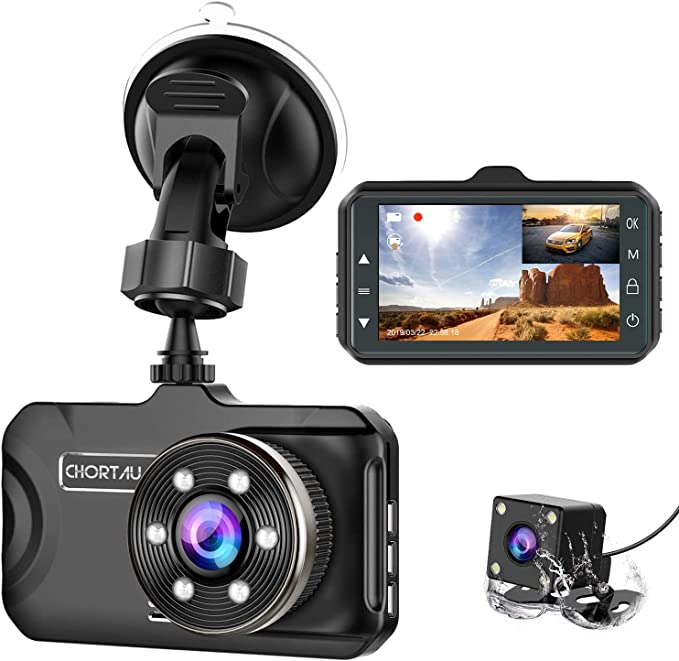 The dashcam has an IR LED light which works best even at night or in dim light. 170-degree wide front and 130-degree wide-angle rear cameras capture other cars' surroundings and license plates.
What is in the box?
Dash Cam
User Manual
Wires
Memory card
KingSlim D1 Dash Cam
Technical Specs
| Company | KingSlim |
| --- | --- |
| Color | Black |
| Batteries Available | Yes |
| Battery Type | Lithium-Ion |
| Camera Part Position | Front and Rear |
| Type of Display | LED |
| Video Resolution | 1080p |
| Size of Screen | 3.16 inch |
Features and Price
This is one of the best dash cams at a price lower than $100. It comes with a dual-camera configuration. KingSlim D1 Dash Cam package contains the main dash cam device, wires, mounting material, and GPS. All these components and multiple features come at a surprisingly low price of $59 to $69. Other features include GPS tracking, an accessory kit, and a 24/7 parking monitor.
KingSlim D1 Dash Cam has front and back cameras. Cameras capture videos clearly in 720p to 1080p HD resolution. The videos are automatically saved on the memory card (an SD card is not included in the packaging).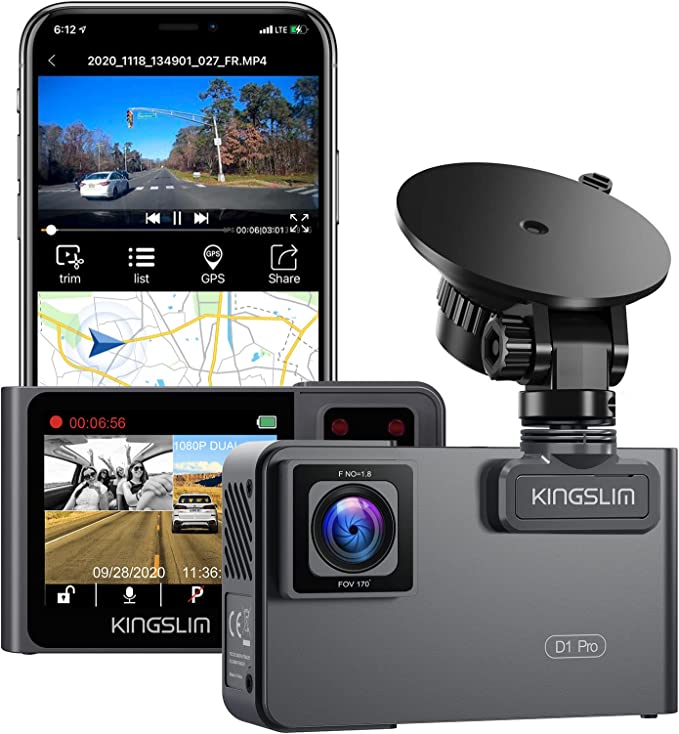 The internal battery of the dashcam works 24/7, and the high-quality G-sensor of Kingslim can record any suspicious activity around the car or a collision even when the engines are turned off. This video will let you have solid proof of the real culprit.
With the Kingslim dash cam, you do not have to buy a separate GPS as it is already included in the box. Real-time GPS will let you manage your route, and you can also observe the speed in mph. The night mode feature is very helpful during night driving.
What is in the box?
GPS
Main Dashcam device
Wires
Mounting Material
AKASO Dash Cam
AKASO dash cam will cost you $49. This is a very reasonable price for a dashcam with multiple features like Wifi, LCD, high video resolution, lithium batteries, and much more.
Technical Specs
| Company | AKASO |
| --- | --- |
| Color | Black |
| Batteries Available | Yes |
| Type of Batteries | Lithium Polymer |
| Size | 2.76 inches (length), 3.94 (width), 2.17 (height) |
| Size of Screen | 1.5 inches |
| Mount Type | Adhesive Mount |
| Video Resolution | 1080p |
| Type of Display | LCD |
Features and Price
AKASO dash cam has built-in wifi which will let you download and send videos in no time. You can also connect your phone with a dash cam with the APP's help. Real-time GPS tracking will let you observe your traveling route and moving speed so you can easily manage the route.
The 178 degrees wide-angle view is best for recording clear videos with a sweeping view. The dashcam contains a 16 GB micro SD card and can record videos for 3 hours straight.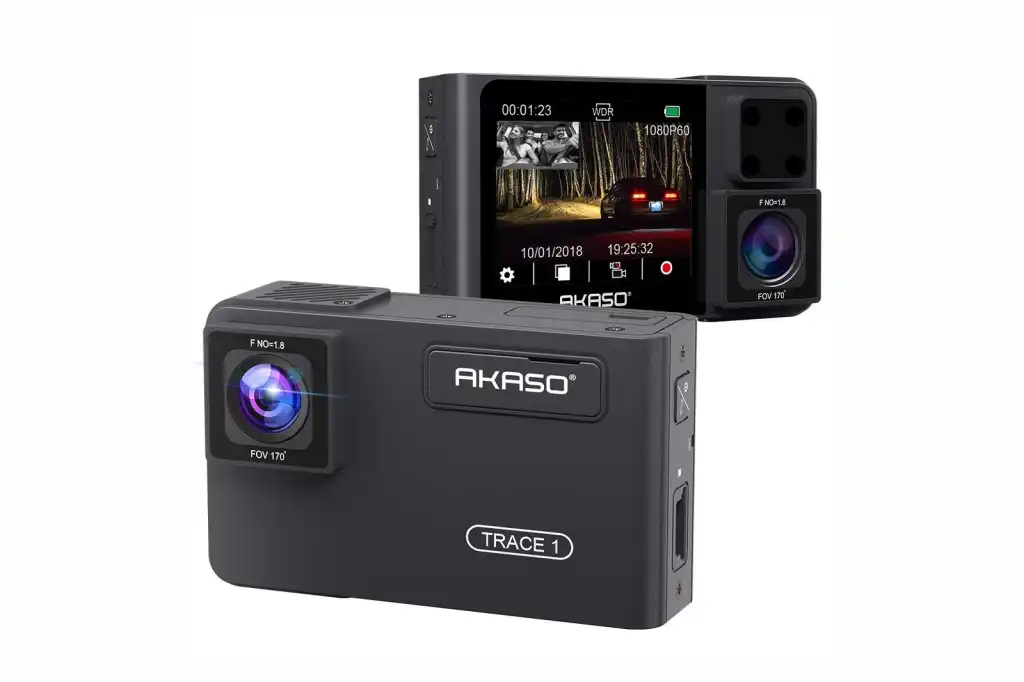 What is in the box?
Dash Cam device
Micro SD card
Batteries
Conclusion – Always Make An Informed Decision!
As mentioned earlier, the best dashcam is the one that meets all the requirements of a fleet at a reasonable price. The important features that truckers should look for in a dashcam are night mode, wifi connectivity, high video resolution, field view, parking mode, and dual camera.
KeepTruckin (Now Motive) and Samsara are leading names in the dashcam market. Their price is high for many fleet owners. But truckers prefer them for their high technical quality and easy-to-use software.
REXO, Chortau, and Kingslim are on the list of low-priced dashcams. The low price does not mean low quality because they contain some unique features. A small, new fleet company can easily choose these dashcams because of their affordable price.
Remember to always do some research before buying a dashcam for your vehicle. And compare different devices by their tech specs and prices. Ask yourself what your fleet's specific needs are and then make an informed decision.