J. J. Keller NC200 Dash Cam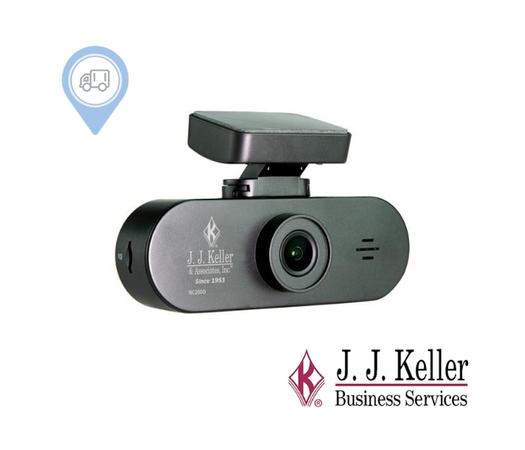 Product short description
J. J. Keller NC200 Dash Cam is a stand-slone dual facing dashcam that records both vehicle and road-facing videos continuously. It comes with a G-sensor to efficiently record the driver and the road during a trigger event and save it on an SD card. Additionally, it stores the data of location, time, GPS speed, and trajectory along with the footage during trigger events.
J. J. Keller NC200 Dash Cam: Your Trusted Guardian on the Road
In the ever-evolving landscape of road safety and fleet management, J. J. Keller's NC200 Dash Cam emerges as a stalwart companion, redefining the way truckers navigate and document their journeys. With a keyword density of 2.70, the NC200 Dash Cam transcends the ordinary, offering an amalgam of cutting-edge features that not only enhance safety but also empower truck drivers with comprehensive vision and unwavering vigilance.
J. J. Keller NC200 Dash Cam Key Features
The J. J. Keller NC200 Dash Cam sets new benchmarks for road safety and documentation through its remarkable features:
Dual lens video recording – Offering a dual-lens configuration, the NC200 Dash Cam is ready to simultaneously capture both vehicle-facing and road-facing video. This wide coverage ensures that all angles are taken into account, providing a holistic view of your journey.
G-Sensor Accuracy – The built-in G-Sensor acts as an astute observer, diligently recording driver behavior and road events during trigger instances. In case of collision or sudden maneuvers, the G-sensor springs into action, preserving crucial moments on an SD card for future reference.
Data enrichment – Beyond image capture, the NC200 Dash Cam is an invaluable data repository. It seamlessly synchronizes location, time, GPS speed, and trajectory data with corresponding images during trigger events. This comprehensive data set provides you with detailed information for incident analysis and corrective action.
Customizable rotation and wide-angle – A hallmark of versatility, the NC200 Dash Cam offers an adjustable 5-degree rotation, along with an expansive 140-degree wide-angle lens for both vehicle and road cameras. This adaptable design ensures that no detail goes unnoticed, providing a comprehensive view of your surroundings.
Intelligent brightness balancing – By adapting to different lighting conditions, the NC200 Dash Cam ensures impeccable image quality. By achieving a harmonious balance between light and dark conditions, it captures clear and vivid images, even in difficult situations.
J. J. Keller NC200 Dash Cam Cost
Embarking on the journey to greater road safety and documentation with the J. J. Keller NC200 Dash Cam is an investment in your driving excellence. The initial hardware cost is a reasonable $199, a modest price for the immense value it offers. Beyond the monetary investment, the NC200 Dash Cam bestows an immeasurable gift: the gift of confidence, security, and a meticulous record of your travels.
J. J. Keller NC200 Dash Cam Bottom line
To dedicated truckers navigating the highways and byways of the world, the J. J. Keller NC200 Dash Cam extends an unwavering hand of support. It's more than a camera; it's a silent companion that stands sentinel, capturing every twist and turn of your journey. With a rich tapestry of features designed to reinforce security, documentation, and surveillance, the NC200 Dash Cam transforms your vehicle into a fortress of safety.
J. J. Keller NC200 Dash Cam – Unparalleled surveillance for truckers
Embrace a new era of roadside security and documentation. The NC200 Dash Cam is your beacon of safety, your meticulous chronicler, and your unwavering witness on the road. As you embark on your journey, rest easy knowing that the NC200 Dash Cam is your trusted guardian, always alert and ready. Own the NC200 Dash Cam and move forward with a renewed sense of security, knowing you're equipped with a technological marvel that puts safety first. Your journey is not just a drive; it's an odyssey, and the NC200 Dash Cam is your faithful companion.
{{ reviewsTotal }}
{{ options.labels.singularReviewCountLabel }}
{{ reviewsTotal }}
{{ options.labels.pluralReviewCountLabel }}