J.J Keller Compliance Tablet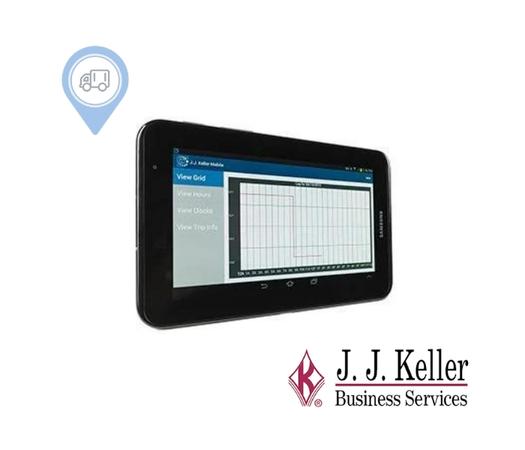 Product short description
J. J keller offers compliance tablet to provide a simple, flexible solution for easily integrating your Elog into your fleet when you don't want to use your phone. It is Samsung's 7 inch Tab 2 pre-loaded with Encompass mobile app and designed to help drivers easily log their hours of service. Enjoy the benefits that offer J.J Keller Compliance Tablet.
J.J Keller Compliance Tablet
When it comes to electronic logging devices (ELDs), one name stands out above the rest: J.J Keller. With a staggering user base of more than 350,000 drivers and 11,000 fleets, J.J Keller's market dominance speaks volumes about its reliability and performance. Now, introducing the J.J Keller Compliance Tablet, a pinnacle of innovation and convenience, designed to seamlessly integrate Elogs into your fleet operations.
Driving Excellence with J.J. Keller
J.J Keller's reputation as a top ELD provider is bolstered by its impressive track record and user loyalty. For those looking for a solution that combines compliance with simplicity, the J.J Keller Compliance Tablet presents itself as the best choice. This tablet solution offers a simple and flexible approach to integrating Elogs into your fleet, all without relying on your phone.
Seamless Integration: J.J Keller Compliance Tablet
At the heart of the J.J Keller Compliance Tablet is Samsung's renowned 7-inch Tab 2, meticulously preloaded with the Encompass mobile app. This powerful combination ensures that drivers can effortlessly log their hours of service (HOS) while on the road. Say goodbye to the complexities of manual logging and adopt a streamlined solution that aligns with modern technology.
Key features that redefine efficiency
Explore the key features that set the J.J Keller Compliance Tablet apart:
Roadside Inspection Mode – Safety and security are paramount, and the Compliance Tablet excels in this regard. Its unique roadside inspection mode displays the last seven days of records, allowing drivers to confidently present their records to traffic officers if safety issues arise. This feature streamlines interactions with law enforcement, saving valuable time and ensuring regulatory compliance.
Driving mode lock – Focus on the road with peace of mind. The Compliance Tablet features a driving mode lock function that renders the tablet inoperable while the vehicle is in motion. This not only improves safety by reducing distractions but also ensures compliance with driving regulations.
Automatic driving hours updates – Complying with hours-of-service regulations is effortless with the Compliance Tablet. It automatically updates to adapt to hours-of-service regulatory changes, eliminating the need for manual adjustments. This automation ensures that your fleet stays aligned with the latest industry standards without any administrative hassle.
J.J Keller Compliance Tablet Cost
The J.J. Keller Compliance Tablet offers exceptional value with a pricing structure to match its excellence. The tablet itself has a one-time cost of $349, a sound investment in efficiency and compliance. To train each driver in your fleet, there is an additional charge of $3.5 per driver, ensuring that everyone benefits from the technology. Monthly subscription fees, which amount to approximately $59 per month, guarantee you continued access to Compliance Tablet's cutting-edge features. In addition, data plans cost a nominal $15 per month, ensuring seamless connectivity for your fleet.
Increase Efficiency, Comply with Regulations
In the dynamic fleet management landscape, the J.J. Keller Compliance Tablet stands as a beacon of efficiency and compliance. With its impressive user base and a reputation for excellence, J.J Keller has once again redefined ELD solutions. Seamlessly integrating ELDs into your fleet has never been easier, thanks to the Encompass mobile app preloaded on the Samsung Tab 2. Unlock streamlined roadside inspections, mitigate distractions with driving mode lock, and stay effortlessly up-to-date with automated Hours of Service settings.
Make the smart choice for your fleet – adopt the J.J. Keller Compliance Tablet and drive with confidence, efficiency, and compliance. Upgrade your fleet capabilities, improve the driver experience, and elevate your operations with a solution that delivers on its promises. Revolutionize your journey with J.J. Keller, where innovation meets excellence.
Empower Your Fleet with J.J Keller Compliance Tablet
In the ever-evolving landscape of fleet management, staying ahead requires embracing technology that amplifies efficiency and ensures compliance. The J.J Keller Compliance Tablet is not just a device; it's a transformational tool that revolutionizes the way fleets operate. With a legacy built on trust and an unparalleled user base, J.J Keller sets the gold standard in ELD solutions.
By choosing the J.J Keller Compliance Tablet, you're making a strategic investment in your fleet's future. Streamlining roadside inspections, enhancing driver safety through driving mode lockdown, and effortlessly adapting to changing HOS regulations showcase the tablet's commitment to excellence. It's not just about embracing technology; it's about driving your fleet toward a more efficient, compliant, and successful future.
Equip your fleet with the power of J.J Keller's Compliance Tablet – where innovation meets reliability and efficiency. Experience the peace of mind that comes from knowing your fleet is not just keeping up with regulations, but surpassing them. Join the league of forward-thinking fleet managers who have elevated their operations with the J.J Keller Compliance Tablet.
{{ reviewsTotal }}
{{ options.labels.singularReviewCountLabel }}
{{ reviewsTotal }}
{{ options.labels.pluralReviewCountLabel }}