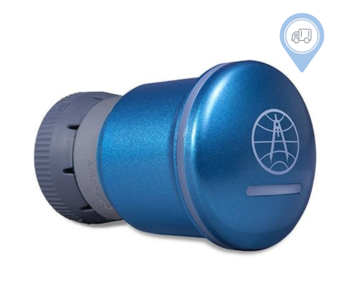 Product short description
Rand McNally ELD 50, Simplify compliance and fleet management with an affordable BYOD solution for electronic logging regulations.
Upgrade your fleet management with the Rand McNally ELD 50, the next-generation BYOD (BYOD) electronic logging device. Designed to meet both compliance requirements and FMCSA regulations, this compact device connects effortlessly to your vehicle's nine-pin diagnostic port, ensuring a seamless installation in seconds.
Why choose the Rand McNally ELD 50?
The Rand McNally ELD 50 is the ultimate tool for effectively managing your fleet while complying with current legislation. With its blue-green design, this electronic logging device acts as a reliable reader of driving status and engine data. By accurately tracking your fleet's performance, it allows you to streamline operations and stay on top of regulatory mandates.
Seamless Android compatibility
Stay connected and informed on the go with the Rand McNally ELD 50's Bluetooth connectivity, which enables effortless communication with Android devices. Simply use your Android phone or tablet as a convenient display for visual presentation of data. With the ability to certify and view logs using your own device, you'll have total control at your fingertips. Please note that the Rand McNally ELD 50 is not compatible with older Android devices.
Unveiling the key features.
Despite its low-cost entry-level positioning, the Rand McNally ELD 50 does not compromise on features. Here are the highlights:
Complete DVIRs (Driver Vehicle Inspection Reports): Access driver vehicle inspection report (DVIR) records conveniently through Rand McNally's DriverConnect online portal, ensuring compliance with HoS regulations and ELD mandates.

Hours of Service (HOS) Logging: Effortlessly obtain Hours of Service reports through the web portal and send them to the compliance officer's email address or courtesy app.

Rand McNally DriverConnect Web Portal: Access Rand McNally's comprehensive portal to store, view, and print electronic logs. Monitor vehicle statuses and truck locations with ease.

Rand McNally DriverConnect App: Use the easy-to-use interface of this versatile app to receive and send messages, view DVIRs, certify logs, and more.

Bluetooth connectivity: Stand out from the crowd with the ELD 50's exclusive Bluetooth feature. Effortlessly upload electronic logs to the DriverConnect app by pairing the device with your tablet or smartphone.

Customizable engine gauges: Tailor your dashboard gauges to your specific needs. Record essential diagnostics such as average fuel consumption, oil pressure, liters per hour, battery voltage, coolant temperature, and boost pressure.

Extensive log history: Stores up to six months of e-log history in the DriverConnect web portal, ensuring compliance with legal requirements.

Audible alerts: Stay ahead of the curve with helpful alerts that notify you when the ELD 50 device is at capacity, allowing timely synchronization with your tablet or smartphone.
How it works.
Experience the effortless functionality of the Rand McNally ELD 50. Simply plug the device into your vehicle's diagnostic port and enjoy viewing electronic records on your Android device. Alternatively, take advantage of Rand McNally's new truck navigation devices for an enhanced experience.
Unleash your full potential
Rand McNally's ELD 50 integrates seamlessly with Rand McNally's DriverConnect web portal, providing more than just DVIR and hours-of-service compliance. Manage average fuel economy, fuel consumption, oil levels, battery performance, and other critical metrics through Rand McNally devices. Get valuable information on pressure, gallons per hour, engine speed, and more.
Meet deadlines and stay informed
Maximize your productivity with built-in sleep, drive, and break timers, ensuring optimal schedule adherence. Fleet managers can easily monitor the status and location of vehicles thanks to the comprehensive web portal.
What is included in the package?
The Rand McNally ELD 50 package contains everything you need to get started:
ELD 50 device

Viewer Card Brochure

Quick Start Guide

E-Logs on Board Sticker

Contact Card
Easy Installation and Quick Start Guide
Installation and commissioning of electronic logs is very easy with the Rand McNally ELD 50. Simply connect the device to the diagnostic port using the 9-pin connector, download and install the Rand McNally DriverConnect app on your phone or tablet, and connect your device to the ELD 50 via Bluetooth. No additional hardware or complicated setup is required.
Compatibility information.
Please note that the Rand McNally ELD 50 is not compatible with the 2004-Newer Mack and 2010-Newer Volvo trucks. It also does not work with the TND 70 tablet.

Harness the full power of the Rand McNally ELD 50 with the Rand McNally DriverConnect platform, which consists of three key components:
Driver E-Log mobile app: Simplify logging with the easy-to-use mobile app. Certify logs, complete DVIRs, and send messages effortlessly.

Fleet Manager Web Portal: Gain valuable information and enhance fleet management capabilities with the Rand McNally web portal. Monitor assets, view truck locations, and access advanced features tailored to your service plan and needs.
Pricing
The Rand McNally ELD 50 device is available at an affordable price of $149.99. Please note that this price covers the initial hardware cost, and additional monthly charges will apply depending on the service plan you choose. Be sure to select the plan that best suits your needs.
No setup fees or long-term contracts are required. For as little as $20 per month, you can take advantage of the full potential of this service. Upgrade to the Enterprise plan for additional features such as critical event reports, engine diagnostics, and driver scorecards.
Take advantage of our mail-in discount. After three months of service, you'll receive a rebate check, adding even more value to your investment.
Pros and Cons of the ELD 50
To provide a complete evaluation, here are the pros and cons of the Rand McNally ELD 50: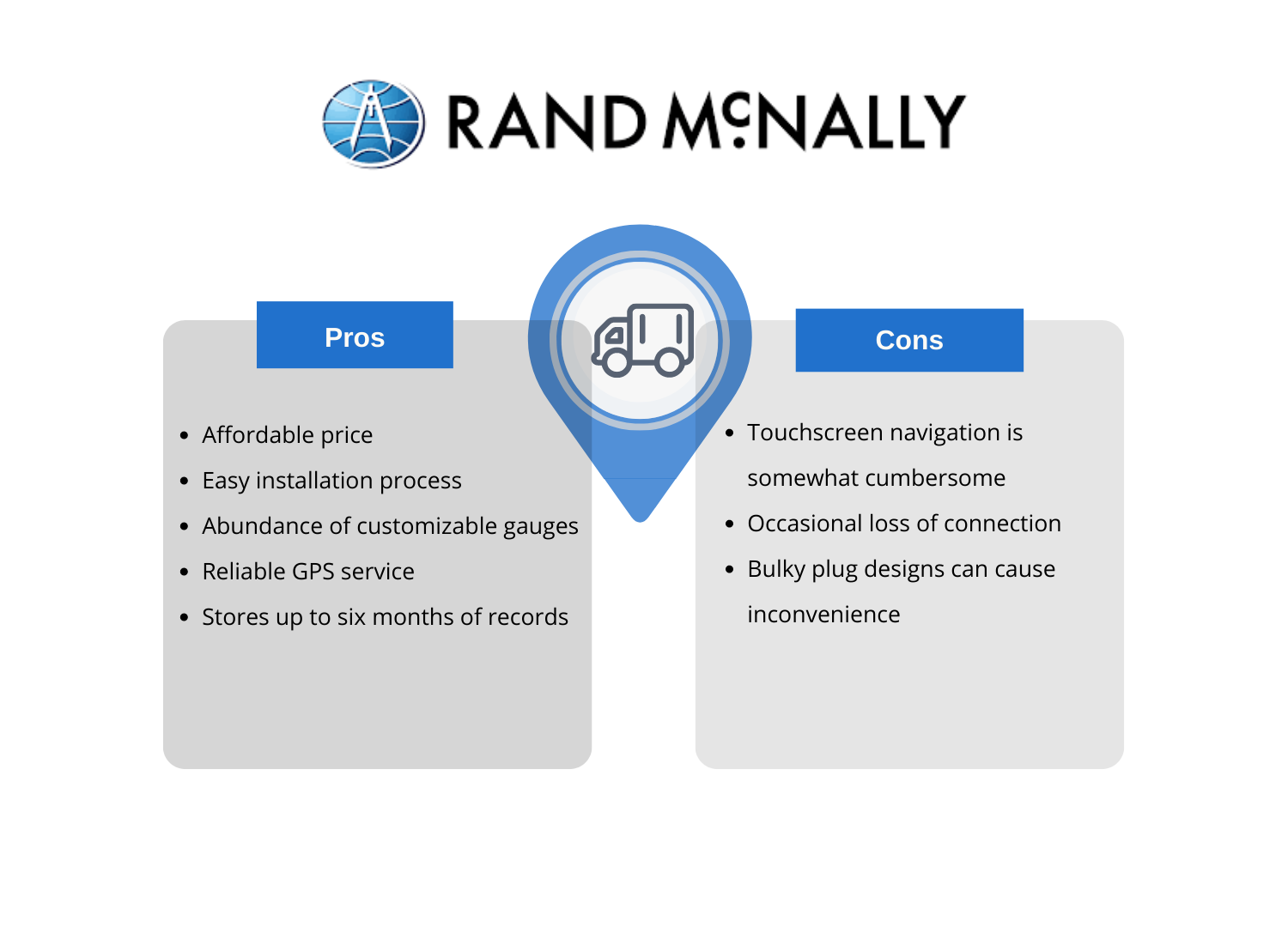 Upgrade to the Rand McNally ELD 50 today!
Unlock the power of efficient fleet management and compliance with the Rand McNally ELD 50. Enjoy hassle-free installation, comprehensive features, and reliable data tracking at an affordable price. Don't miss this opportunity to streamline your operations and ensure compliance. Order the Rand McNally ELD 50 now and move your fleet forward with confidence.
{{ reviewsTotal }}
{{ options.labels.singularReviewCountLabel }}
{{ reviewsTotal }}
{{ options.labels.pluralReviewCountLabel }}