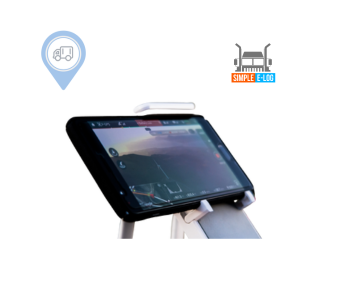 Product short description
Stay compliant with the Simple E-log! FMCSA-approved ELD for accurate HOS data, real-time diagnostics, and GPS tracking.
Simple E-log – An affordable and efficient solution to manage your fleet
The Simple E-log is an electronic logging device that helps drivers and fleet companies comply with FMCSA regulations. By synchronizing with the engine, this ELD for pickup trucks captures accurate Hours of Service data and prevents unauthorized data alterations.
This FMCSA-approved E-log system meets performance requirements and provides standardized data to authorized officials. It also offers preventive reminders, real-time vehicle diagnostics, and fault code warnings to maximize fleet efficiency.
With the Simple E-log's GPS tracking feature, fleet managers can track vehicle arrivals and delays down to the second, providing exceptional customer service that sets their company apart from competitors. Additionally, custom Geofence Alerts enable the back office to monitor fleet operations and receive alerts for an abnormal activity or when vehicles enter/leave specific locations.
Overall, the Simple E-log solution is a reliable and efficient way for fleet companies to manage their operations and ensure compliance with FMCSA regulations.
Pro
No Contract

No Hardwiring

No Installation Fee

No Cancellation Fee
Cons
No parking assistance, load boards, and roadside assistance. However, the Company promises to provide it soon.
Simple E-log Component and Features
The Simple E-Log consists of three main components:
The ELD system (Black Box) that attaches to the truck's ECM port.
A mobile app for Android and iOS that drivers can use on their phones.
A web application platform for monitoring and fleet management.
The Simple E-Log is a reliable and comprehensive solution for managing fleets and ensuring FMCSA compliance, making it an essential tool for fleet companies looking to streamline their operations and maximize efficiency.
Simple E-log Plan and Pricing
Simple E-Log offers one of the most flexible and cost-effective pricing plans for electronic logging devices on the market. With a variety of options to choose from, SimpleELog ensures that carriers can pick the plan that best suits their business needs.
Intra State Plan
For those operating within individual states, the Intra State Plan is the ideal choice, providing compliance with hours of service regulations and management of DVIRs, load sheets, and self-certification tools. With real-time log submission and FMCSA certification, the Intra State Plan is both affordable and reliable, with a monthly rate of $9.95 or an annual rate of $108, plus a one-time hardware cost of $129.
Basic Plan
For those in need of more comprehensive compliance solutions, the Basic Plan is a great option, including hours of service, DVIR, and load sheet compliance, as well as proactive violation alerts, FMCSA log submission, and support in multiple languages. This FMCSA-certified plan stores mandated documents for up to 2 years and is available for $25 per month or $228 per year, with a one-time hardware cost of $129.
No matter which pricing plan you choose, Simple E-Log ensures that you can comply with hours of service regulations while maximizing your fleet's efficiency. So, if you're looking for a cost-effective and reliable electronic logging device solution, SimpleELog is the way to go!
Simple E-Log GPS Tracking
The web application of the Simple E-Log platform is suitable for Fleet management and allows the fleet company and owner-operators to focus on growing their business.
Boosts Efficiency and Reduce Overall Spending
Catch up with demand-dispatch and monitor your fleet using GPS in real-time, tracking weather conditions and traffic data to exceed your customers' expectations.
Thus, it helps reduce spending on fleet optimization with insightful fuel management reporting. It also enables you to monitor fuel use and idle time all over your fleet.
Dispatcher App
The age of managing fleet dispatching utilizing whiteboards is long gone. Tracking goods delivery and communication is now being done via a mobile platform.
It turns out that there is more than just giving a task full of stops to vehicles driver and waiting to see what happens at the end of the job.
And If you were inspecting companies across various sectors, you would most likely find just as many different ways to manage dispatch operations.
That is where the SimpleELog dispatch features come in. Fleet management dispatch responds to the challenges of modern routing by providing a higher level of accountability, efficiency, fleet visibility, and control.
With these features, you will be able to plan routes and create some stops where trucks are expected to make a delivery. Thus enabling fleet managers to make the route more efficient, and save time and fuel.
Cities' traffic jams are taking a significant toll on fleet operations. And Using the best tools helps to route cost reduction and boosts efficiency.
Using Simple E-Log improves productivity and efficiency through real-time assignment and dispatch of routes to your drivers to guarantee accurate pickups, deliveries, and returns. You can set up a notification for hazard alerts, delivery tracking, and dynamic routing.
IFTA Miles Report Per State
The International Fuel Tax Agreement (IFTA) is a collection of fuel tax and sharing agreements for the reallocation of fuel taxes paid by carriers between member jurisdictions in the United States and Canada.
In particular, IFTA applies to a commercial fleet vehicle that travels between multiple jurisdictions and provinces for commercial purposes. And with the Simple E-Log solution helps reduce the risk of problems that may arise, like missing paperwork.
Mobile App Features
The Simple E-Log ELD mobile app is one of the compact solutions on the market today. The Integral app Synchronization with the Engine Control Unit and automatically records Engine Power status, Engine Hours, Vehicle Miles, Motion, Date, Time, Location, Driving time, and Driver ID.
The Web Application Features include;
DVIR

Log Edit

Team Drivers

Trip Selection

Trip/Load Sheet

Detail Daily Logs

Vehicle Tracking

Fleet information

GPS Configuration

Display Driver Logs

Daily log certification

Configure DVIR inspection points

Managing un-identified drivers' hours

Graphical representation of driver logs

Driving Hours Daily & weekly Graphical display

View Driver Logs along with geolocation details

Hours of driving rules Proactive warnings & alerts

Real-time status of driver violation report and driving hours are displayed
Data Security
Simple E-Log provides end-to-end, solidly built data security. Data is stored safely in their servers based on their roles and privileges, with only authorized user access.
The information is transmitted to FMCSA only during the roadside inspection by the drivers concerned.
Geo-Fencing
The management and safety of company assets are an integral part of the management of fleets.
An essential aspect of tracking and maintaining the fleet vehicles or highly valued assets of your business is always knowing their location and what they are doing. That's what keeps geofencing so important.
And this is the method of using GPS tracking solutions to create digital boundaries around a particular geographic area that can be detected and tracked using GPS tracking technology.
Apart from being able to monitor fleet assets activity within a particular geographic area, SimpleELog geofencing feature is a powerful tool used to develop driver transparency, boost daily business operations, and increase overall efficiency for the Company.
With the SimpleELog solution, it is effortless to set up GeoFences to effectively commence tracking movement in and out of a particular location.
Log Edit
A lot of drivers and fleet managers think that when the e-logs for owner-operators regulation is implemented, they would no longer have the ability to edit driving time.
It is a reasonable concern, so the SimpleELog team sifted through the ELD rule from the FMCSA to see precisely which log edits are permitted under the new regulation that entirely comes into effect in December 2019.
Although in some ways, the rule is strict on log edits, there is far more flexibility than most of us would ever imagine.
A good ELD is expected to collect and record all driving incidents, but any time the users think an entry is wrong, they can make an edit to their log.
The mandate allows drivers to annotate the change; however, the previously recorded driving status is not erasable.
Alerts & Warnings
Failed inspections, tickets for HOS violations, accidents, etc. It'll be too late when a fleet manager typically hears about such a problem – The damage has already been done!
But with the SimpleELog solution, those days have gone by. The alert features turn the e-log solution into a proactive one from a reactive activity.
Fleet managers can set up automated message alerts in just a few clicks for the incidents that make much difference, such as DVIR defects, HOS violations, Vehicle fault codes, Hard braking events, and Hard acceleration events.
SimpleELog allows you to set up fault-code alerts for drivers instead of putting your CSA score in jeopardy.
And, as fleet vehicles indicate a significant fault, for instance, a brake issue, fleet managers will get a notification in real-time.
And this helps fleet managers to interfere before the problem gets out of hand and, if necessary, guide the driver to a repair spot.
Conclusion
Take your fleet management to the next level with Simple E-Log! With real-time diagnostics, fault code warnings, and preventive reminders, you can maximize your fleet's potential. GPS tracking features allow you to track vehicle arrivals and delays to the second, while the custom Geofence Alerts feature keeps you informed of any unusual activity. Plus, enjoy exceptional customer service and stand out from the competition. Upgrade to Simple E-Log today and revolutionize your fleet management!
{{ reviewsTotal }}
{{ options.labels.singularReviewCountLabel }}
{{ reviewsTotal }}
{{ options.labels.pluralReviewCountLabel }}