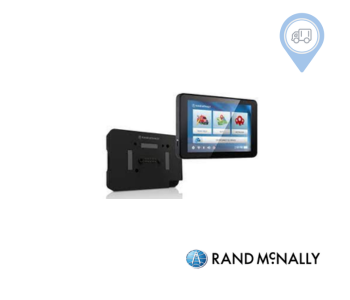 The Rand McNally DC 200 S is the ultimate electronic logging solution that ensures seamless ELD compliance when paired with the powerful TND 740 device. This dynamic duo offers a comprehensive range of cutting-edge features designed to streamline operations and give drivers unprecedented control over their electronic logging and fleet management tasks.
With the Rand McNally DC 200 S at their fingertips, drivers can efficiently manage all aspects of their electronic logging requirements. From effortlessly generating IFTA (International Fuel Tax Agreement) reports to accessing detailed hours of service history, drivers can stay on top of their compliance obligations with ease. Completing Driver Vehicle Inspection Reports (DVIR) is a breeze with the user-friendly interface, ensuring that vehicles are always in top condition.
Communication is made seamless through the device's messaging functionalities, allowing drivers and fleet managers to stay connected at all times. Whether it's sending important updates, sharing critical information, or certifying logs on the go, the DC 200 S empowers drivers to stay productive and compliant on the road.
Equipped with an integrated cellular modem, the DC 200 S ensures effortless data transmission to Rand McNally's advanced DriverConnect portal. This state-of-the-art connectivity enables real-time vehicle tracking, two-way messaging between drivers and managers, and accurate mapping of vehicle locations. Fleet managers can access crucial fleet information at their fingertips, empowering them to make informed decisions that drive efficiency and productivity.
Designed for fleets of all sizes and owner-operators, the DC 200 S features a simple yet intuitive design, ensuring ease of use for drivers of all levels. Its compact form factor and ergonomic design make it a practical and user-friendly solution for drivers, reducing distractions and improving overall safety on the road.
The DC 200 S offers an affordable compliance solution, providing peace of mind to fleet operators, knowing that all regulatory requirements are met without breaking the bank. With its comprehensive suite of features and user-friendly interface, the DC 200 S is the ideal electronic logging solution for fleets looking to stay compliant, organized, and efficient.
Key Features:
Perfect ELD Compliance: Paired with the TND 740, the DC 200 S ensures full ELD compliance, keeping drivers and fleets aligned with industry regulations.
Enhanced Fleet Management: Access hours of service history, complete DVIRs, and manage critical data with ease, maximizing operational efficiency.
Integrated Cellular Modem: The integrated cellular modem enables real-time tracking, two-way messaging, and accurate vehicle mapping, improving communication and fleet visibility.
User-Friendly Design: The DC 200 S features a simple and intuitive design, allowing drivers to effortlessly navigate tasks and access important functions.
Affordable Compliance Solution: With the DC 200 S, achieving ELD compliance is cost-effective and hassle-free, offering a reliable solution for fleets of all sizes.
How does the DC 200 S work?
The DC 200 S works together with the TND 740 to create a unified and fully compatible E-Log solution.
To start using the DC 200 S, make sure your TND 740 is updated with the latest software to comply with the latest ELD regulations. Follow these steps:
Verify that your TND 740 has the latest software update installed.

Restart your TND 740 and press the "update" button to check for additional updates.

Once there are no more updates available, proceed with the installation of the DC 200 S.
How do I install it?
Follow these simple steps to install the DC 200 S:
Unplug the cigarette lighter charger from the cigarette lighter in the passenger compartment of your vehicle and remove the TND 740 tablet slice from the magnetic holder.

Place the powered tablet in the TND 740 bracket, then use a 9-pin cable to connect the DC 200 S to a JBUS diagnostic port. This cable powers both the TND 740 and the DC 200 S simultaneously. Make sure that the plug is aligned with the pins on the port and that the DC 200 S is securely mounted on the suction cup holder.

If the installation was successful, your device will display a sequence of green and red lights. Finally, turn on the vehicle's ignition.

You are now ready to proceed with the registration and pairing of the DriverConnect application.
Pricing: Service Plans
The cost of the Rand McNally DC 200 S hardware is $399 and requires monthly service charges. As with the DC 200, two service plans are available:
Compliance Plan: This plan focuses on ELD compliance and offers additional capabilities, including fleet-to-driver messaging, vehicle location display, vehicle status check, vehicle inspection report review, and 6 months of E-Log history storage.
Core Plan: In addition to the features provided by the Compliance Plan, the Core Plan includes form integration into messaging, IFTA reporting through state crosswalks, fuel purchase reports, and state mileage reports.
Rand McNally DC 200 S Pros and Cons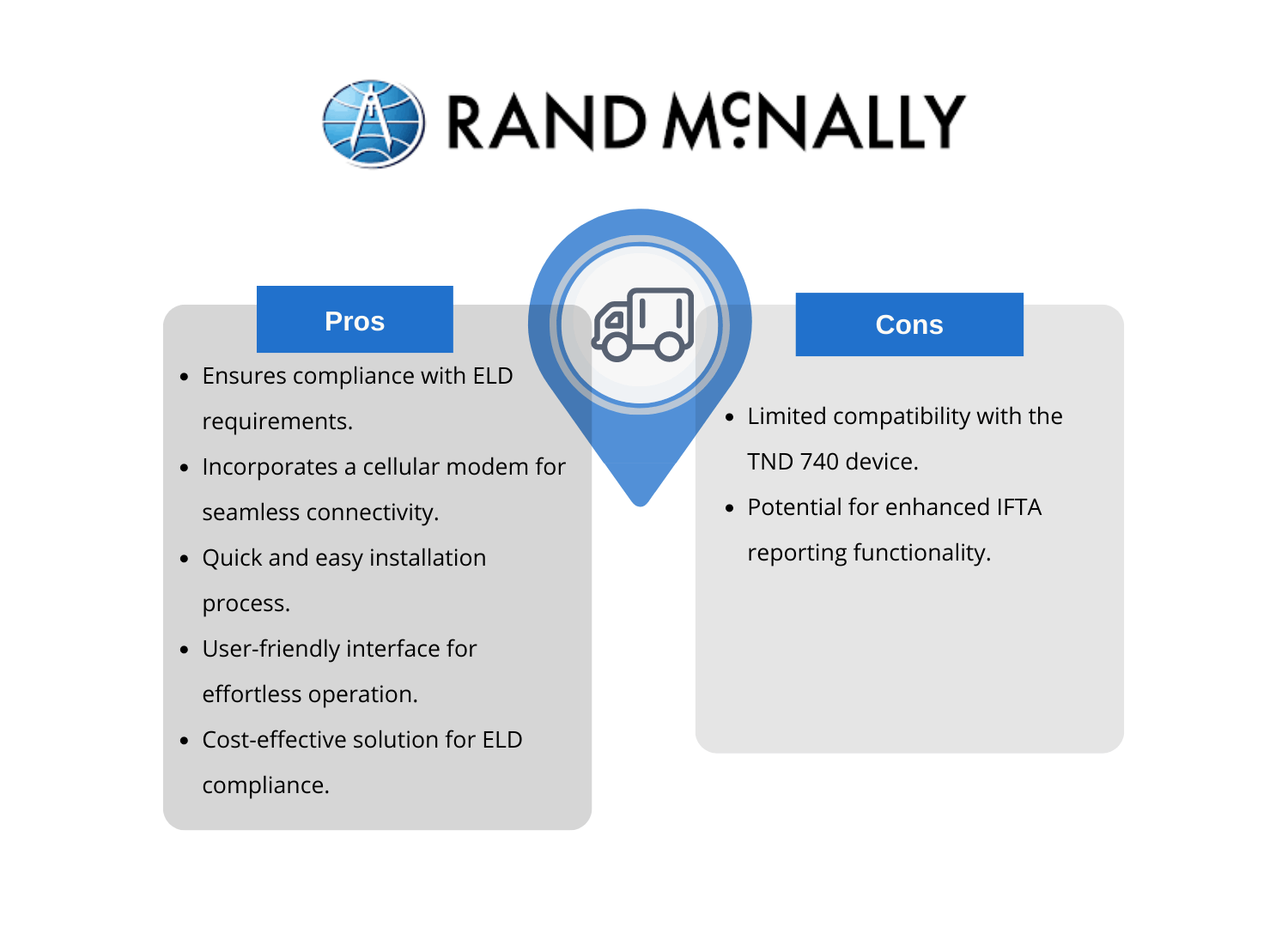 In conclusion, the Rand McNally DC 200 S is a game-changer in the world of electronic logging and fleet management. Its advanced features, seamless integration, and user-friendly design make it the ultimate choice for drivers and fleet managers alike. Experience effortless ELD compliance with the Rand McNally DC 200 S. Combined with the TND 740, this dynamic duo offers a complete, easy-to-use solution for managing your fleet's electronic logging needs.
Comply with regulations, streamline operations, and improve efficiency with the Rand McNally DC 200 S. Invest in this exceptional product today.
{{ reviewsTotal }}
{{ options.labels.singularReviewCountLabel }}
{{ reviewsTotal }}
{{ options.labels.pluralReviewCountLabel }}