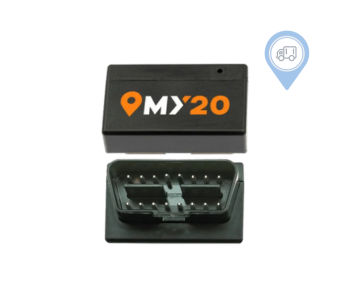 Product short description
Experience unmatched fleet management with My20 Cellular ELD. Achieve compliance, streamline operations, and boost efficiency for a successful future.
My20 Cellular ELD Hardware
Introducing the My20 Cellular ELD, a revolutionary solution designed with cutting-edge edge computing technology that redefines fleet compliance. This innovative telematics device is set to elevate your fleet management strategy, offering seamless integration and uncompromising reliability. With My20 Cellular ELD, compliance becomes a hassle-free experience, and the road to increased efficiency is paved with real-time insights and enhanced control.
My20 Cellular ELD Top Features and Benefits:
Edge Computing Excellence: The My20 Cellular ELD boasts state-of-the-art edge computing technology, eliminating the need for additional hardware. Your smartphone or tablet, coupled with the free My20 ELD app, becomes your command center for unparalleled fleet management.
Real-Time GPS Tracking: Stay connected to your fleet's movements with the real-time GPS tracking feature. Effortlessly monitor locations, routes, and driver activities, gaining valuable insights that streamline operations and boost productivity.
Seamless Installation: Experience hassle-free installation with the OBD-II ECM connector. Simply plug the My20 ELD into the ECM diagnostics port of the majority of trucks, and you're ready to embark on a new era of fleet management.
User-Friendly App: The My20 ELD app, available in both English and Spanish, ensures a user-friendly experience. Download it from the Google Play Store or Apple App Store and link it to your smartphone via Bluetooth. Enjoy effortless access to crucial data and controls.
My20 Cellular ELD Price and Subscription:
To unlock the full potential of the My20 Cellular ELD, a subscription-based service is required. This subscription provides you with continuous access to the powerful features and capabilities of the My20 ELD hardware.
Please note that the annual My20 ELD auto-renew subscription is essential for seamless utilization. Make sure to review the phone and tablet recommendations, ensuring compatibility with your devices, before making your purchase.
Konexial Return Policy: For your peace of mind, Konexial offers an exchange option for the My20 ELD. If you encounter any issues within the first year (365 calendar days) after purchase and have an active subscription, you can request a replacement unit. Additionally, a refund option is available within the initial 30 days (calendar days) after purchase, subject to a $50 re-stock charge.
Konexial Shipping: Your convenience is our priority. Please allow up to 2 weeks for the shipment of your My20 Cellular ELD from the date of purchase. Once it arrives, you'll be one step closer to experiencing the transformative power of advanced fleet management.
Device Compatibility:
Ensure your device meets the recommended requirements to harness the full potential of the My20 ELD:
Apple iOS:
OS: Minimum requirements: iOS 14 or higher; Recommended: iOS 16 or higher
Phones: Minimum requirements: iPhone 7 or higher; Recommended: iPhone X or higher
Tablets: Minimum requirements: iPad Mini 4, iPad Air 2; Recommended: Any iPad released over the past 4 years.
Android:
OS: Minimum requirements: Android 7 or higher; Recommended: Android 10 or higher
Phones: Recommended: Google Pixel 5 or higher, Samsung Galaxy S9 or higher
Tablets: Recommended: Samsung Tab S7 or higher, Samsung Galaxy Tab S6 or higher
Please note that Samsung Note 8 and LG devices are not recommended due to documented Bluetooth connectivity issues. The My20 Cellular ELD is designed to seamlessly integrate with devices that meet these specifications, ensuring optimal performance and user experience.
Overview
Konexial's commitment to your satisfaction is underscored by their flexible return policy, allowing you to exchange the My20 ELD within the first year for an active subscription. Additionally, a refund option is available within the initial 30 days, reflecting their dedication to your experience.
As you await the delivery of your My20 Cellular ELD, keep in mind that the device compatibility recommendations ensure seamless integration with your devices, optimizing your experience and enhancing your results.
In a world where compliance and efficiency define success, the My20 Cellular ELD is your partner in navigating this dynamic landscape. Konexial's dedication to technological excellence, paired with their customer-centric approach, ensures that you're not just investing in a telematics device – you're embracing a transformative tool that empowers your fleet to excel.
In conclusion, the My20 Cellular ELD revolutionizes fleet management by merging cutting-edge technology with ease of use. With its game-changing edge computing technology, real-time GPS tracking, and simplified installation, this solution empowers fleet managers and owner-operators to achieve compliance effortlessly while unlocking new levels of efficiency. Embrace the future of fleet management with My20 Cellular ELD and experience the transformation firsthand.
{{ reviewsTotal }}
{{ options.labels.singularReviewCountLabel }}
{{ reviewsTotal }}
{{ options.labels.pluralReviewCountLabel }}