EROAD Fleet Management System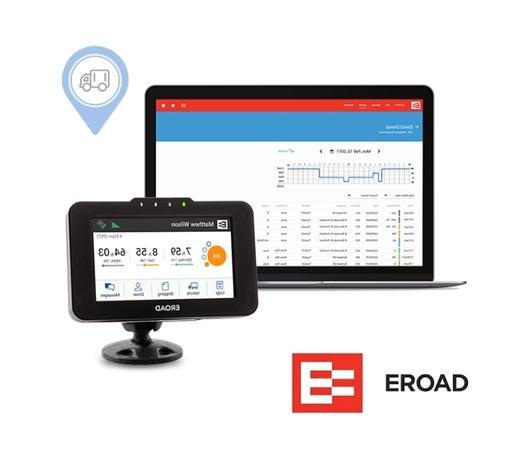 EROAD Ehubo & EROAD FMS – The Smart Solution for Advanced Fleet Management!
Have you ever heard of EROAD? It's not surprising if you haven't – this company is often overlooked because their customers are so satisfied that there's simply nothing to complain about! 
With over 90% customer retention, EROAD is a leading provider of fleet management solutions with more than 8,000 happy customers and over 200,000 connected vehicles. Unlike other companies that invest heavily in advertising, EROAD focuses on delivering top-quality products and dependable services to their customers. 
The EROAD Fleet Management System offers an unprecedented level of quality and flexibility for compliance and vehicle safety. The company promises 100% ELD compliance and its performance proves it to be true. 
EROAD Fleet Management System is famous for its high-quality automated devices. The devices are reliable, rugged, and well-built. Likewise, the software has a user-friendly interface which makes it easy to use. It provides high accuracy and precision. 
EROAD Fleet Management System has been helping fleets and companies of all sizes remain effortlessly compliant with HOS, DVIR, IRP, IFTA, and WMT. Furthermore, their pricing plans are carefully tailored to customer's unique needs and level of affordability.
We did all the research and experiments for you and in this guide, you will find out why EROAD Fleet Management System is one of the most recommended and beneficial fleet management when it comes to best prices, complete compliance, and improved safety.
Pros
Handles Compliance and Tax Reporting.

Reduces stress and saves time by eliminating extra paperwork.

Reduces the carbon footprint of the fleet by minimizing fuel usage with an automated selection of the best routes.

24/7 available customer response team.

Durable and easy-to-use devices

Tailored price plans according to users' needs.

Software installation is quick and smooth.
Cons
Some users complained that the EROAD Ehubo ELD screen size is small.

The minimum contract is for 3 years that cannot be canceled.

GPS tracking malfunctioning. 

The recent decline in customer support experience. 
Here is a video showing how to use EROAD Ehubo ELD.
EROAD – Customer Reviews
Most customer review websites have reported positive reviews about EROAD Ehubo ELD and fleet management systems. The platforms like Software Advice, Inc and Capterra Inc have rated the fleet system with 4.5 scores out of 5 based on around 100 user reviews.
The majority of customers admired how easy it is to use and install the software of EROAD devices. It is intuitive even for first-time users. Others showed their satisfaction with the complete compliance provided by the fleet system. 
Additionally, the different kinds of pricing plans are praised by customers because they are practical for their individual needs. Small companies can choose the medium-level plan with all the essential features at low prices. 
The negative reviews were mostly about the GPS live tracking malfunctioning and unresponsive customer service. The company promises a 24/7 customer response service and while EROAD customer service was previously known for its exceptional quality, some customers have noted a decline in recent times. 
However, the company was quick to respond to negative reviewers by suggesting them valid solutions and we can only assume this is because they are quickly growing and customer service has to catch up.
G2.com gave the EROAD fleet management system a 4.2 out of 5 stars rating. Still, a high score shows that the majority of customers are quite happy with the services. Customers mentioned the easy-to-use software, reduced paperwork for ELD compliance, and unique pricing plans.
Some users pointed out that in-app messaging and communication are not effective. You cannot identify the truck number of the sender which makes it difficult to locate accurate details and information.
Several customers highly appreciate the customer support of the EROAD fleet management system. We also asked some fleet members who agreed with the review and shared their experience with our team. 
They mentioned that users can get assistance via email, phone, or even by using the live chat option that is easily accessible through EROAD's software. Right now you can reach the support team in the late or early hours. They ensure that no truck stands by idly waiting for help.
Some drivers applauded the coaching videos and tutorials which they find highly helpful. They are also a great way to familiarise with the system for new users. Certain user manuals or videos can be found in different languages. Their tutorials are detailed and guide you through log edits, fuel tax reporting, and much more.
Benefits of EROAD FMS
EROAD takes compliance seriously and has gone through a rigorous testing process by the PIT Group, a neutral, third-party organization that focuses on testing technologies and verifying their regulatory compliance in the trucking industry.
After passing the demanding PIT certification, EROAD emerged as one of only two devices to receive the coveted compliance certification, demonstrating its full compliance with the ELD mandate. By choosing EROAD, you can have peace of mind knowing that you are using a trusted and reliable ELD device that has been put to the test and proven compliant by actual truckers and their vehicles.
Here are some of the benefits of EROAD FMS:
Effortless Compliance: The promise of 100% compliance is real. The EROAD fleet management system will keep you compliant with FMCSA requirements because they have automated tools for Weight Mile Tax (WMT), International Fuel Tax Agreement (IFTA), HOS, Driver Vehicle Inspection Report (DVIR), and International Registration Plan (IRP). Staying compliant has never been so easy and stress-free before.
Prioritise Driver Safety: The EROAD fleet management system protects drivers, vehicles, and the fleet company by using video surveillance, insightful business strategies, and consistent driver coaching. Video surveillance keeps the drivers alert and notices their behavior if they get distracted. In this case, the coaching system will notify them to keep their attention on the road.
Automated Dispatch: The digitization will assign new assignments and share live details from the driver's location to the main office or other locations. This saves time, increases productivity, and enhances safety.
Enhanced Performance: User manuals, training programs, and reward systems encourage drivers to give their best performance. Dash cam monitoring keeps them alert and always ready in difficult situations during driving. 
Boost Efficiency: The EROAD FMS will decrease fuel costs with advanced automated direction planning. Optimized routes help drivers to make informed decisions. For instance, the system pointing out the better, shorter, or faster path for the fleet will save time and fuel.
Avoid Theft: A unique benefit of EROAD FMS is the maintenance of asset and vehicle temperatures. Temperature alerts and live location status reports will prevent asset theft and many other problems. 
Reduced Carbon Footprint: It is rare to come across a fleet management system that cares about its carbon footprint on the planet. With smart route management and selection, truckers drive smoothly without taking longer routes. This in return reduces fuel usage and benefits the atmosphere.
Customer Care: The EROAD fleet management system provides the best customer care experience with automated route surveillance, delivery status alerts, and fast response from the team. 
EROAD Pricing Plans
You must know that every fleet company has unique needs when it comes to ELD features and management system services. Finding all the required features at a reasonable price can be a challenge. 
However, with the EROAD fleet management system, you can choose between different pricing plans according to your needs. The two main pricing plans are:
EROAD TotalFleet

EROAD TotalTax
TotalFleet Plan can cost up to $60 per month. It is the most expensive price plan of the EROAD fleet management system. The price is justified because this plan comes with all the essential features. You can also choose a basic plan which only contains ELD for a low monthly price but that might not be very beneficial.
The TotalTax plan is a medium-level pricing plan but it still comes with important fleet management features. This plan will cost up to $45 per month. The TotalTax plan is quite effective if you are looking for a plan that handles tax agreements and reduces extra paperwork. This plan will increase user satisfaction and lessen their stress by eliminating the paperwork.
Have a look at ELD options here.
Transform Your Fleet Operations with EROAD FMS!
In summary, EROAD offers a top-notch fleet management system and it will continue to do so. The fleet companies who need a reliable all-in-one management system with 100% compliance, safety, accurate GPS tracking, and reduction in fuel usage cannot find a better candidate than EROAD. 
The benefits do not end here, you can get the best pricing in the market with carefully designed pricing plans for every fleet size. This will surely be your best and final choice when it comes to EROAD Ehubo ELD and its fleet management system.
{{ reviewsTotal }}
{{ options.labels.singularReviewCountLabel }}
{{ reviewsTotal }}
{{ options.labels.pluralReviewCountLabel }}