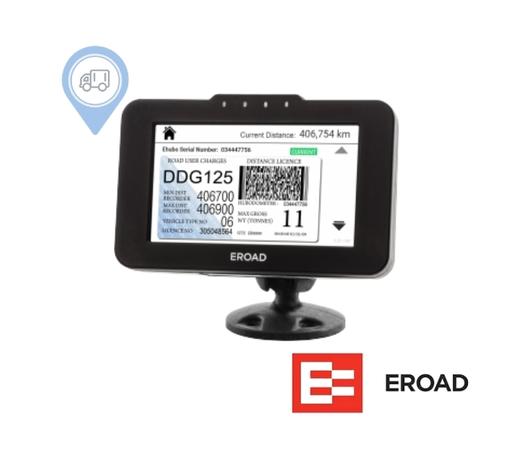 Product short description
Unleash efficiency with EROAD Ehubo 2 ELD excellence, driver safety mode, IFTA management, and more. Streamline operations today!
EROAD stands as a trailblazer in the realm of ELD technology adoption, having embraced it from the early days. Renowned for its industry-leading IFTA reporting capabilities, EROAD has solidified its position as a driving force in the field. A prime testament to their commitment is the EROAD Ehubo 2 – an all-inclusive ELD solution that seamlessly merges advanced technology with convenience. Notably, the EROAD Ehubo 2 represents a pivotal step in the evolution of electronic logging, offering drivers a multifunctional device designed to enhance their experience on the road. This device's hallmark is its touchscreen interface, intuitively bridging the gap between drivers and technology. By seamlessly connecting to the vehicle's diagnostic port, the EROAD Ehubo 2 is more than a mere ELD; it's a powerful tool designed to empower drivers and fleet managers alike.
EROAD Ehubo 2 Top Features:
By equipping drivers with a user-friendly touchscreen interface, the Ehubo 2 empowers them to seamlessly navigate their logs, ensuring adherence to regulations while streamlining operational tasks. Beyond compliance, the device's built-in safety enhancements create a safer driving environment, fostering a culture of responsible driving habits and ultimately contributing to reduced accidents and improved road safety.
The EROAD Ehubo 2 boasts an array of top-tier features, seamlessly integrating innovation and practicality:
All-In-One Excellence: As a harmonious blend of advanced technology and user-centric design, the EROAD Ehubo 2 features a user-friendly touchscreen and seamlessly integrates with a driver's diagnostic port.
Enhanced Interaction: Beyond its role as an ELD, the built-in touchscreen offers enhanced driver engagement, redefining the way drivers interact with their devices.
Comprehensive Safety: The driver safety mode addresses paramount safety concerns, offering real-time insights to ensure the well-being of drivers and vehicles alike.
IFTA Fuel Tax Management: The EROAD Ehubo 2 simplifies a complex aspect of fleet operations, ensuring accurate IFTA reporting while minimizing administrative burdens.
EROAD Ehubo 2 Benefits:
What truly sets the EROAD Ehubo 2 apart is its strategic pricing structure, designed with the end user in mind. EROAD recognizes that the success of any technological innovation hinges on its accessibility and affordability. In this regard, the Ehubo 2 not only offers an array of advanced functionalities but also does so within a pricing framework that fosters inclusivity. With subscription plans catering to different fleet sizes and requirements, EROAD ensures that both large-scale fleets and smaller operations can leverage the power of the Ehubo 2 without compromising their financial sustainability.
The EROAD Ehubo 2 goes beyond ELD compliance, offering a host of benefits that elevate its significance:
Operational Efficiency: With an all-in-one design, drivers have access to an array of features that streamline operations, from compliance to vehicle safety.
Enhanced Driver Safety: The driver safety mode serves as an additional layer of protection, mitigating risks and ensuring safer journeys.
Streamlined IFTA Reporting: The IFTA Fuel Tax management feature simplifies reporting, reducing administrative complexities and minimizing errors.
EROAD Ehubo 2 Subscription Price:
Investing in the EROAD Ehubo 2 delivers unparalleled value, with a pricing structure designed to align with fleet budgets:
Subscription pricing ranges from $35 to $60 per month, offering flexibility to cater to various fleet sizes and needs.
A one-time activation charge of $25 ensures swift onboarding and access to the Ehubo 2's array of features.
The device's connectivity to the diagnostic port via ECM-Y is available at a modest cost of $65, facilitating seamless communication.
EROAD's commitment to accessibility is evident through its provision of the hardware at no additional cost with the subscription, removing barriers to entry.
In conclusion, the EROAD Ehubo 2 stands as a triumphant testament to the seamless integration of innovation and practicality, representing the pinnacle of what ELD technology can achieve. This cutting-edge device serves as a beacon of transformative power, redefining the landscape of electronic logging and advancing the capabilities of fleet management. As the driving force behind ELD technology from its early stages, EROAD's legacy of excellence shines brilliantly through the EROAD Ehubo 2, a symbol of their unwavering commitment to meeting industry demands and exceeding expectations.
{{ reviewsTotal }}
{{ options.labels.singularReviewCountLabel }}
{{ reviewsTotal }}
{{ options.labels.pluralReviewCountLabel }}