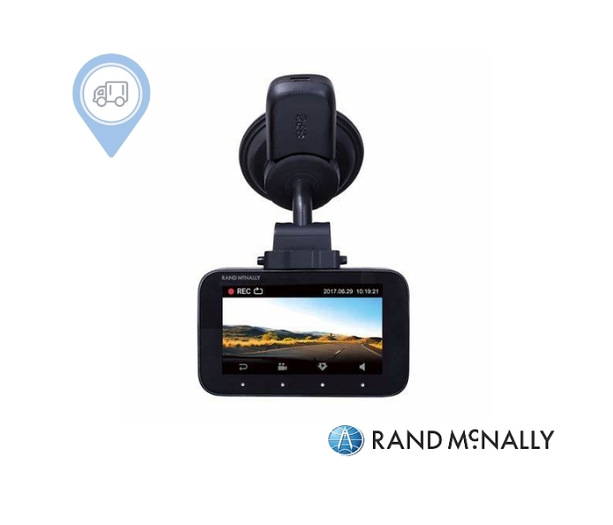 Product short description
DashCam 500 stand-alone compact design dashcam and comes with a large 3 in screen. With a G-sensor for automatic recording of collisions that are saved on the microSD card. 
Rand McNally DashCam 500: Your Reliable On-Road Companion
In 2018, Rand McNally proudly unveiled its groundbreaking innovation, the Rand McNally DashCam 500, marking the third evolution in their esteemed dashboard camera series. Building on the success of its predecessors, the DashCam 100 and DashCam 300, which debuted in 2016, this cutting-edge device continues to redefine road safety and documentation. A dash cam, also known as a dashboard camera, is a compact yet powerful device strategically positioned on a vehicle's dashboard. Its mission is to capture a comprehensive visual record of every journey, ensuring that crucial moments, including accidents, thefts, and incidents of vandalism, are captured with unparalleled clarity.
Unraveling Key Features of the Rand McNally DashCam 500
Boasting the latest advancements in automotive technology, the Rand McNally DashCam 500 represents a pivotal leap forward in enhancing both driver safety and journey documentation. Meticulously designed to encapsulate every detail, this remarkable device is not just a camera – it's a vigilant eyewitness that ensures you're equipped to address any unexpected incidents head-on.
Memory and Storage The DashCam 500 arrives with a 16 GB removable memory card, a repository for your recorded moments. This intelligent device can archive up to one and a half hours of continuous footage. With loop recording enabled, the dash cam automatically deletes the oldest recordings as space is needed, ensuring a seamless experience. Crucially, the DashCam 500's Flashback and Emergency recordings remain untouched, providing a safeguard for critical events. Should unforeseen incidents occur, this invaluable feature grants you access to your past one and a half hours of recorded history.
The DashCam 500's companion app is a cornerstone of its functionality. Compatible with both iOS and Android platforms, this app offers seamless synchronization with the dash cam via Wi-Fi hotspot. This empowers you to exercise comprehensive control over your dash cam through your smartphone. Beyond real-time control, the app serves as an archive for your recordings. Browse, organize, and store photos and videos in custom albums, directly on your device. Sharing your journey's highlights with friends, family, or on social media becomes effortless, thanks to the app's sharing capabilities.
Price Point of the Rand McNally DashCam 500
Accessible yet sophisticated, the Rand McNally DashCam 500 strikes a harmonious balance between advanced technology and affordability. Priced at a competitive $179.99 on the official Rand McNally website, this device invites you to elevate your road safety without straining your budget. While prices may vary on other online platforms, reaching up to $300, an economical option exists in the form of used DashCam 500 units, typically available at around $70 to $80. This diversity in pricing ensures that users from various walks of life can embrace enhanced safety measures without compromise.
Delving into the Technical Brilliance
The Rand McNally DashCam 500 harnesses technical prowess to deliver unparalleled performance. Its lens type, a 6-glass construction, combined with a CMOS sensor, guarantees crystal-clear video quality. Video recordings are saved in the universally compatible MP4 format, offering ease of access and sharing. Operating at a resolution of 1080p and with a video frame rate of 30 fps, the DashCam 500 ensures smooth and detailed video capture. The expansive field of view, spanning 151° (opposite angles) and 120° (horizontal), ensures that nothing escapes the camera's lens.
Seamless Integration: Installation and Operation
Effortless integration is at the heart of the DashCam 500's design. The provided Rand McNally DashCam 500 mount simplifies installation. By securely attaching to the windshield, this mount ensures stability during your journeys. Equipped with GPS functionality, the mount allows the dash cam to precisely track its location, providing an additional layer of security. Setting up the device is a breeze – insert the memory card, secure the mount, and effortlessly slide the dash cam into place. With the USB connected to a power socket, the DashCam 500 springs to life, ready to document your adventures.
Conclusion: A Glimpse into the Future of Road Safety
The Rand McNally DashCam 500 encapsulates the brand's dedication to innovation, reliability, and user-centric design. From memory management to seamless app integration, this device empowers users with unprecedented control over their journey documentation. As technology continues to redefine our interactions with the road, the DashCam 500 stands at the forefront, offering a comprehensive, accessible, and feature-rich solution to capturing every road-bound moment. Embrace the future of road safety – embrace the Rand McNally DashCam 500.
{{ reviewsTotal }}
{{ options.labels.singularReviewCountLabel }}
{{ reviewsTotal }}
{{ options.labels.pluralReviewCountLabel }}