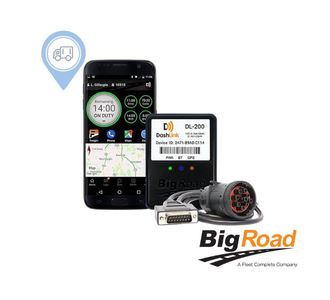 The BigRoad DashLink ELD: Your Solution for  Fleet Management
In the ever-evolving landscape of fleet management, the BigRoad DashLink ELD stands as a beacon of innovation and practicality. As one of the pioneering adopters of ELD technology, BigRoad has not only kept pace with the changing times but has also solidified its position as a trusted provider at the forefront of the industry.
With unwavering commitment, BigRoad has channeled its expertise into crafting an ELD solution that goes beyond regulatory requirements. It's not just about compliance; it's about empowering drivers and fleet managers with tools that enhance their efficiency, streamline operations, and drive success.
With a legacy rooted in understanding the intricate needs of drivers and fleet managers, BigRoad has honed its ELD solution to address the real-world challenges faced on the road. The DashLink ELD is not just a product; it's the culmination of years of experience and a deep understanding of the transportation industry's nuances. By prioritizing simplicity without compromising on functionality, BigRoad has managed to create a solution that seamlessly integrates into the daily routines of drivers while delivering comprehensive fleet management tools for the back office.
As the landscape of fleet management continues to evolve, BigRoad remains steadfast in its commitment to providing an ELD solution that not only meets regulatory requirements but elevates fleet operations to new heights. The DashLink ELD is more than just a technological device; it's a testament to BigRoad's dedication to equipping the industry with tools that facilitate growth, efficiency, and compliance.
Through continuous innovation and a customer-centric approach, BigRoad has positioned itself as a true partner in the journey of modern fleet management, making the DashLink ELD a symbol of trust, reliability, and progress.
Uncomplicated Installation and Interchangeability
The DashLink device, a plug-and-play marvel, effortlessly integrates into your fleet. Its versatile design allows seamless interchangeability between drivers and vehicles, accommodating dynamic operational needs. The multiple connectors for different diagnostic and OCM installation ports ensure compatibility with almost all commercial vehicle makes and models, satisfying the ELD mandate requirement with ease.
BigRoad DashLink ELD Feature-Rich and User-Friendly
The DashLink device is not just about compliance; it's about enhanced fleet management. With an array of features, including real-time vehicle diagnostics, fault code warnings, and preventive reminders, this ELD maximizes operational efficiency. The GPS tracking feature elevates customer service to a new level by providing precise vehicle arrival and delay information, giving your company an edge in a competitive market.
Pros:
Synchronized engine connectivity for accurate Hours of Service data
Comprehensive ELD compliance, DOT compliance, and HOS compliance
Real-time GPS tracking and diagnostics
Preventive reminders and fault code warnings for efficient fleet management
Custom Geofence Alerts for monitoring fleet operations
Cons:
Limited navigation capabilities within the mobile app
Monthly subscription costs may add up for multiple drivers and devices
BigRoad DashLink ELD Pricing and Subscription Options
The BigRoad DashLink ELD is affordable and accessible. With zero upfront costs for the device, you pay a reasonable monthly service fee of approximately $40 per truck or unit. Fleet owners will invest around $1,440 over a 3-year contract for one truck, making it a cost-effective compliance solution. For drivers, the app subscription costs $15/month per driver, with an additional $15/month charge if office staff requires access. An extra $10/month covers the BigRoad DashLink ELD device, plugged into your truck's diagnostic port.
BigRoad DashLink ELD Conclusion
In the ever-changing realm of fleet management, the BigRoad DashLink ELD emerges as a pivotal asset, offering seamless compliance and operational excellence. Its affordable pricing, user-friendly design, and comprehensive features make it a compelling choice for fleet managers and drivers. From the innovative DashLink device to the empowering mobile app and the comprehensive web dashboard, BigRoad equips you with the tools to master the complexities of fleet management. Elevate your fleet's efficiency, enhance regulatory compliance, and embrace a new era of ease with the BigRoad DashLink ELD. Your journey to optimized fleet management starts here.
{{ reviewsTotal }}
{{ options.labels.singularReviewCountLabel }}
{{ reviewsTotal }}
{{ options.labels.pluralReviewCountLabel }}